Golden Titanium Coated Mirror Glass Detail
---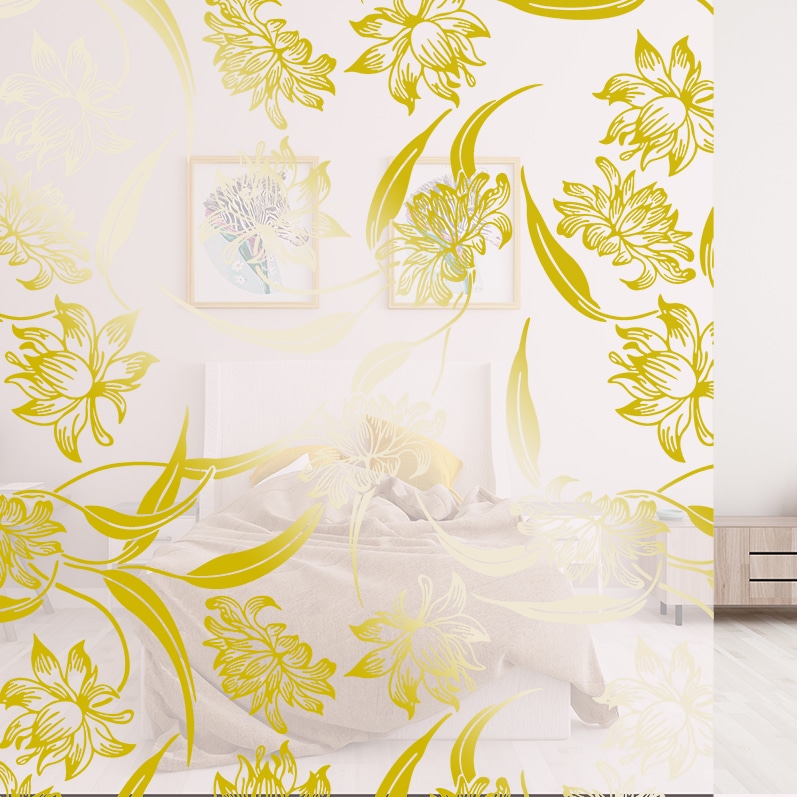 Titanium Coated Mirror Glass is environmental friendly glass product. Under the trend of the era of environmental protection, Ginde Glass invested heavily in high-tech level with the world 's first automated continuous magnetron sputtering vacuum coating equipment of various titanium sided mirror. Titanium Coated Mirror Glass is environmental protection unleaded, semi-reflective glass and titanium pattern mirrors. The reflective design is two-way reflection from both sides of the glass. We can make the design according to custom-made design or pattern on any glass(clear float glass, frosted float glass, acid frosted glass, satin frosted glass, pattern glass and so on ). The metallic coating is sturdy yet thin, so it's barely recognizable to the touch.
Use it with other glass manufacturing processes and products. It's not exclusive. We can combine acid, titanium coated and ice flower and other technology in one sheet of glass. Available in over 1000 designs.
The reflective design is two-way reflection from both sides of the glass. This Titanium color can be customized also, like silver, purple, golden, yellow and so on.
| | |
| --- | --- |
| Product Name | Golden Titanium Coated Mirror Glass |
| Thickness | 3MM 3.5MM 4.0MM 5.0MM 6.0MM 8.0MM |
| Glass | Clear float glass, blue/bronze float glass, pattern glass, frosted satin glass |
| Size | 1700*2000, 1830*2440, 1650*2200, 16520*2134mm |
| Titanium Color | silver, golden, yellow, purple and so on |
| MOQ | each design 2 crates |
| Packing | interlay paper, and sea worthy crate |
| Loading Port | Xingang, Tianjin, China |
Golden Titanium Coated Mirror Glass Advantages
---
 Suitable for inside and outside walls, KTV, restaurant, shop, swimming pools, fountains and similar applications
 Can be applied as complete sheets or in small sections to decorate borders or trims with other tiled surfaces
 Resistant to fading, staining and discoloration, easy cleaning
 Acid-resistant and Alkali-resistant
 The tangible stereoscopic pattern will never fade
 Rich and colorful pattern design will never fade
 Perfect decorative effect
 Color and size can be customized
Golden Titanium Coated MIrror Glass Applications 
---
Fixed and sliding partition
Windows and unfaced glazing
Shower and bath screen
Doors
Stair treads and floor panels
Furniture
Inside and outside walls
KTV
Restaurant
Shop
Swimming pools
Packing And Loading
---

Contact
---
Mobile: +86 13931911140
Phone: +319 8991018
Fax: +319 8991018
Email: 13931911140@qq.com
Whatsapp: +86 13931911140
Skype: gindeglass
Wechat : +86 13931911140
QQ:1211343905
Golden titanium coated glass is our main product. This design is brighten the design and glass , make more choice of decoration. Welcome to visit our factory to check this titanium coated mirror glass. Cheap price, Assured quality and Professional service.