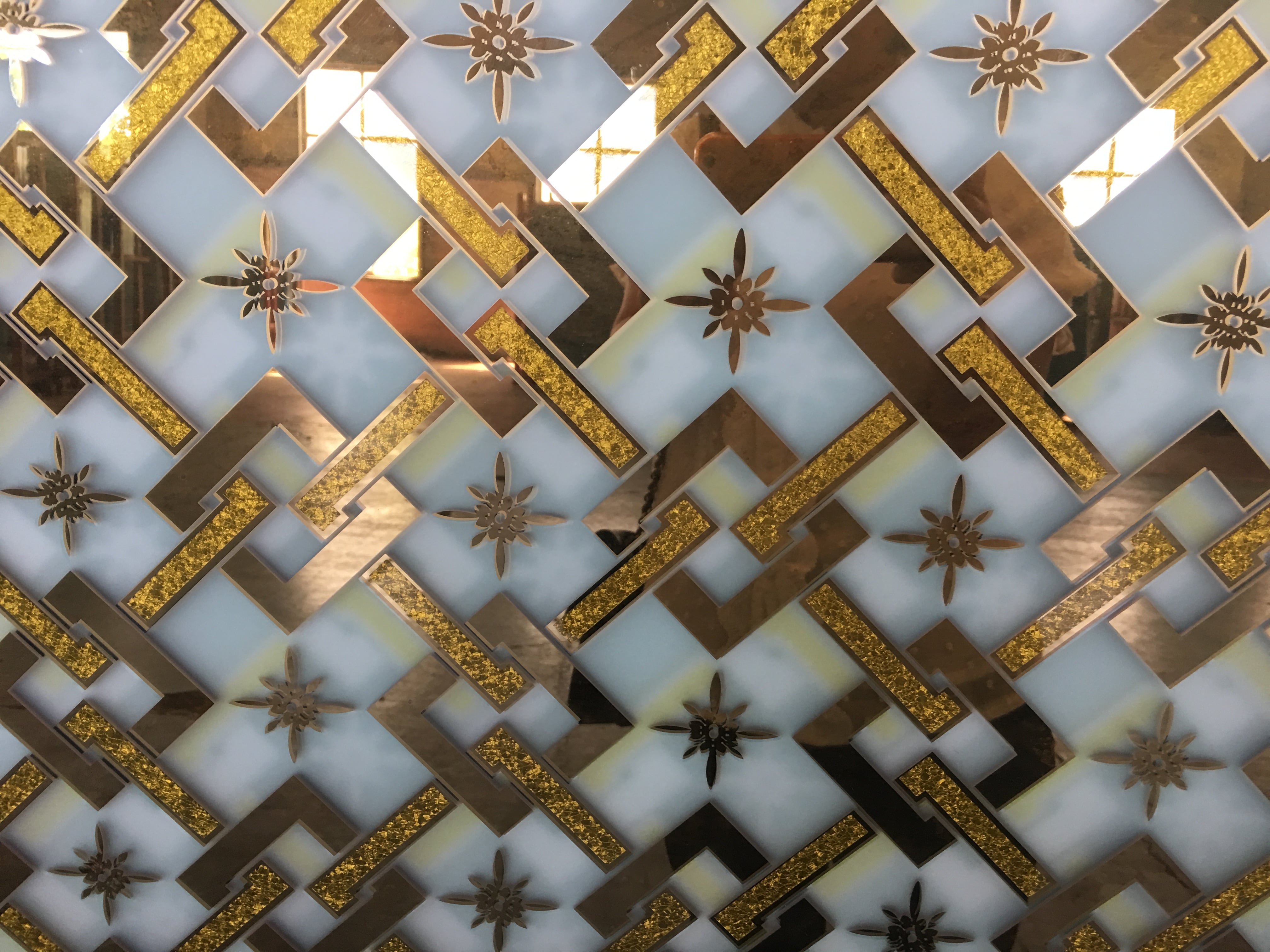 Decorative titanium coated mirrored glass has become the popular exterior and interior building glass material in the home decoration and building.  Ginde Glass is proud to be the exclusive wholesales supplier manufacture of cheap decorative titanium mirror glass.
Titanium mirror glass is unique and innovative in the decorative glass industry. The glass is manufactured by eco-friendly production technologies.
After coating in an automated continuous magnetron sputtering vacuum equipment, glass surface forms a film with various titanium sided mirror. Titanium mirror glass is both a decorative and highly reflective product. The reflective design is two-way reflection from both sides of the glass. This titanium mirror glass is luminous, reflective glass which is completely opaque, maintenance friendly, and highly resistant to dirt and stains. Its back surface color is silver.
Titanium is well-suited for both interior and exterior applications. Often used in elevator cabs, elevator lobbies, and high-end hotels, mirrored panels add a hint of luxury while brightening the space through light reflection. Floor to ceiling decorative mirror applications is popular, as it creates the illusion of increased depth and size within the environment. Titanium Mirror adds elegance, enhances interior cabinet lighting, and emphasizes the transparent glass inserts in cabinet doors. When installed in the doors, it completely hides cabinet clutter.
Features & Benefits
Suitable for interior and exterior applications.
Can be tempered for added safety and durability, ensuring your installation looks great for years to come.
Available in our standard patterns and unlimited custom patterns.
Combine Titanium with textured/patterned glass, etched glass, ice flower glass or laminate it with various interlayers to create a truly unique design.
Deep processing for laminated, insulted.
Cheap in price.
Acid-resistant and Alkali-resistant.
Titanium Mirror Glass Characteristics
Glass substrate: clear float glass, tinted float glass, reflective glass, frosted glass, acid frosted glass, pattern glass and so on.
Thickness: 3mm to 6mm available.
Titanium mirror color: silver, golden, purple.
Size: 1830*2440mm, 1650*2200mm and custom size negotiate.
Edgework:
Standard seamed-edge. Flat polished or flat ground edge also available.
Fabrication:
Available for specific installation and hardware requirements. See our Fabrication Limitations for more information.
Ginde glass now develop endless design for the titanium mirror glass combine with acid etched, ice flower&UV and back painted glass. Welcome to contact us for more information of wholesales supplier manufacture of cheap decorative titanium mirror glass.
Mobile: +86 13931911140
Phone: +319 8991018
Fax: +319 8991018
Email: 13931911140@qq.com
Whatsapp: +86 13931911140
Skype: gindeglass
Wechat : +86 13931911140
QQ:1211343905
Website: https://www.gindeglass.com