Anti-Slip Glass Detail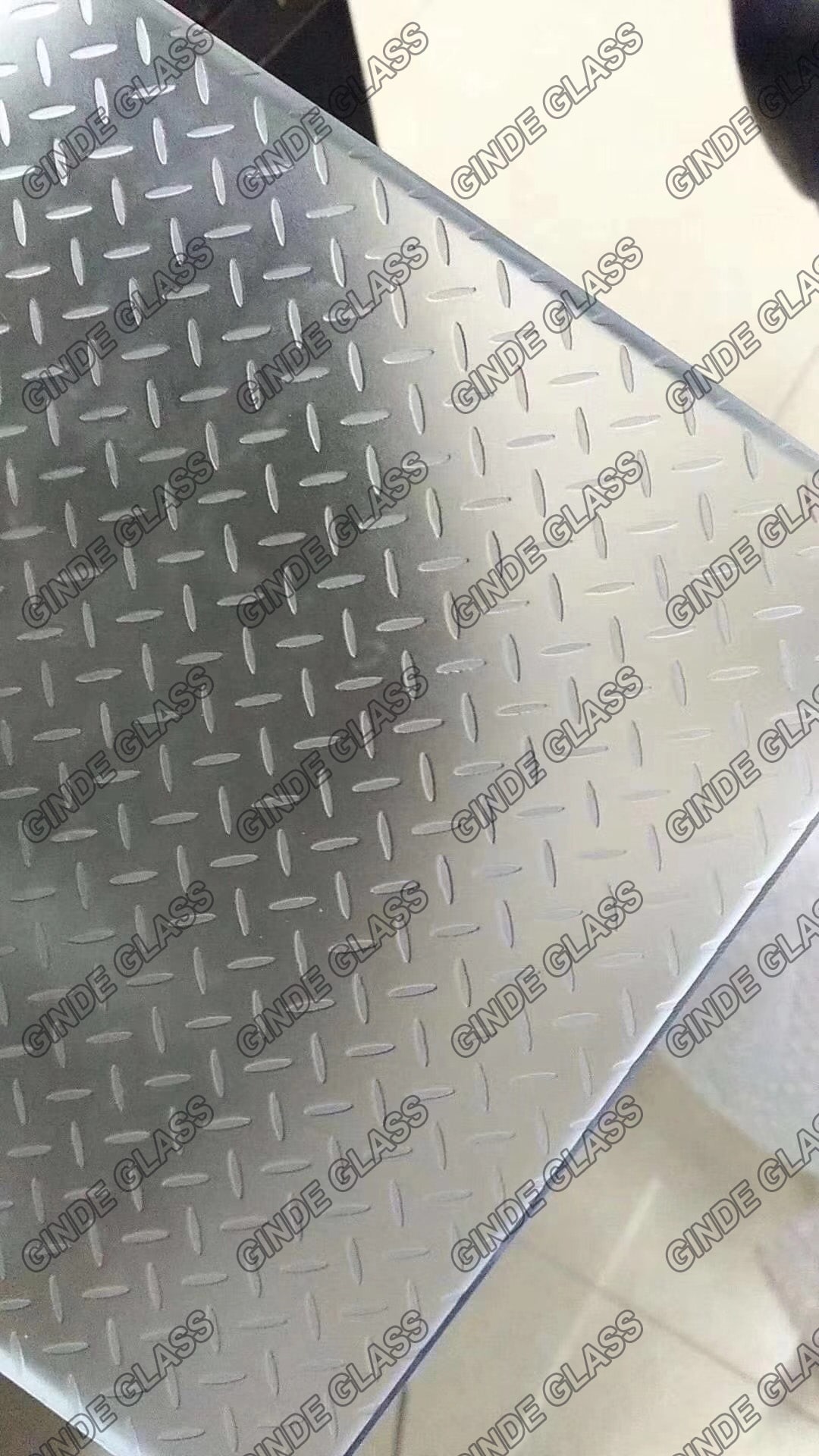 Anti-Slip glass is also named Non-slip glass. This glass is made by acid etched glass. Designs and patterns available for anti-slip glass are again extremely broad. There's a wide choice of textures diversified for use in small or large spaces. They all guarantee sure grip in dry and wet conditions. Either a full sandblasted effect or a dot matrix sandblasted pattern will achieve an anti-slip resistance to the walk on the glass floor with varying levels of transparency through the glass. These products combine the aesthetic qualities unique to glass with anti-slip characteristics. Anti-slip acid-etched glass products ally discretion, light transmittance, durability, safety and add an undeniably sophisticated touch of design. This glass is ideal for flooring and stairs of high visual impact in public and private settings.
Product Specifications for Acid-etched Anti-slip glass
Colors: Clear and ultra-clear*, other substrates available on demand
Thicknesses: 6MM to 19MM
Dimensions: 1830*2440MM
Deep Process: We can also do cutting, tempering and laminating deep process also
Usage:
Our non-slip glass flooring can be used for any number of creative glass flooring applications, including stair treads, walkways, and glass disco floors, walking surfaces, steps, flooring, hanging floors, walkways, etc.

Ginde Glass Anti Slip Glass Traction Advantages:
Superior coefficient of friction
No restriction of light flow
Superior resistance to surface contamination from dirt, oils, chemicals, liquids, food, etc.
Sophisticated touch of design
Conducive to high quality edgework
Excellent wear resistance properties
Consistent acid-etched finish
Free of iridescence
Processes used for fabricated anti slip glass products :
Cutting
Edge 

Grinding & Polishing

Beveling
Hole Drilling
V-grooving
Plus a variety of other enhancement techniques
Contact
Mobile: +86 13931911140
Phone: +319 8991018
Fax: +319 8991018
Email: 13931911140@qq.com
Whatsapp: +86 13931911140
Skype: gindeglass
Wechat : +86 13931911140
QQ:1211343905
FAQ
1  Is your company is trading or manufacturer for vanity mirror?
A: We are manufacturer factory
2. What is the MOQ?
A: Our company mainly do manufacturing and exporting.  We are wholesales, not a retailer. The vanity mirror always shipped by container,  so MOQ is one container. But the client can mix with other glass or mirror product.
3. How about the delivery time?
A: It is about 30 days
4. Where is your factory?
A: Our factory is located in Desheng Industrial Park, Latitude 3RD, RD, Shahe City, Xingtai City, Hebei Province, China.
Ginde Glass Co., LTD is the manufacturer and wholesales of the anti slip glass/non slip glass from China. Welcome to contact us and visit our factory. we offer much more designs, cheap price and after-sales service of the deep acid etched glass.