Acid Etched Glass Detail
Acid Etched Glass is a float glass product whose surface has been permanently altered through the application of a hydrofluoric acid solution. This glass is acid on the satin smooth frosted glass surface. The result is a translucent glass with matte surface.  Acid Etched Glass is available in a variety of thicknesses in both clear and tinted (colored) glass. This matte surface is not so rough as deep acid etched glass.
Acid Etched Glass is masked prior to satin frosted translucent glass or clear float glass to create patterns, depth, and texture by hydroelectric acid.  Acid Etched Glass products offer a wealth of opportunities to architects, interior designers and decorators because of its consistent quality, durability and rich look of textures. Acid Etch Glass create an obscure design appearance on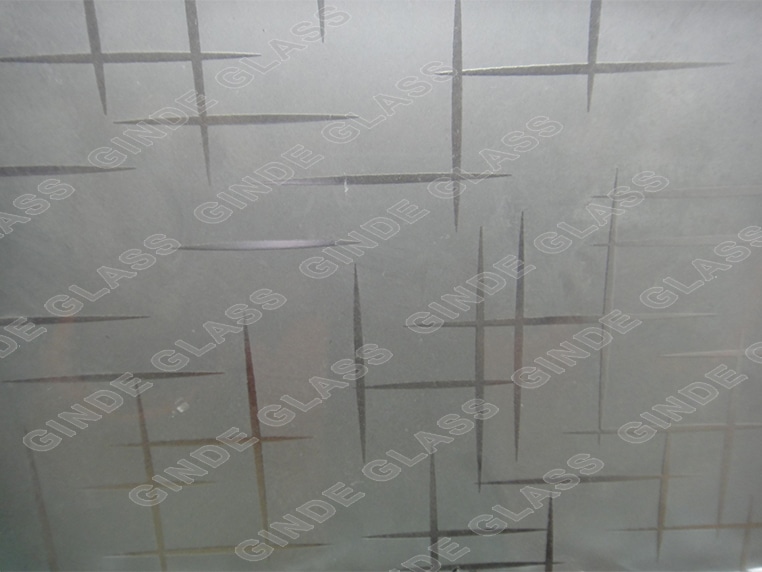 satin frost translucent or clear float glass. This acid etched appearance maintains a high level of light transmittance. Acid etched glass is customized pattern. We can manufacture the acid etched glass according to client design picture.
Different pattern of Acid Etched Glass offer many more finishes and degrees of transparency and diffusion of light. Etching can be done evenly over an entire piece, or areas of the glass.
Acid Etched Glass is used to decorate many different types of glass objects, whether it be for a gift or to decorate your own home. Acid Etched Glass applies a light, frosted texture to glass via sandblasting.
Payment Terms: TT, LC
| | |
| --- | --- |
| Acid Etched Design No | LAE 22 |
| Glass Material | Clear float glass, Bronze blue or gray  float glass, acid frosted glass |
| Thickness Available | 3.0mm 3.5mm, 3.8mm, 4.0mm, 4.5mm, 4.8mm, 5.0mm |
| Size Available | 1830*1220mm, 1830*2440mm, 1650*2200mm and 1700*2200mm |
| Deep Processing | Cutting, Drilling, Edge-work, Tempered, Laminated, insulated. |
| MOQ | 2 crate for one design |
| Loading Port | Xingang, Tianjin China |
Acid Etched Glass Advantages
 Consistent finish and appearance
Maintenance free
More mar-resistant than sandblasted glass
Does not peel or discolor like films
Does not scratch off like coatings
Customized pattern design, depth, and texture.
Ease of maintenance
Resistant to scratches
Unique designs
Significantly reduce glare
Light diffusion
Added depth then satin frosted glass
The greater measure of privacy
Acid Etched Glass Application
Interior Partitions
Office enclosures
Shower and bath enclosures
Interior and exterior doors
Balustrades and railings
Mirror and closet doors
Display fixtures
Flooring and stairs
Spandrel
Sealed units
Backsplashes
Furniture and kitchen components
Shelving
Wall decoration
Packing and Loading
Contact
Mobile: +86 13931911140
Phone: +319 8991018
Fax: +319 8991018
Email: 13931911140@qq.com
Whatsapp: +86 13931911140
Skype: gindeglass
Wechat : +86 13931911140
QQ:1211343905
We have been manufacturing  wholesales and exporting of acid etchd glass for more than 10 years. Our product is cheap  price, better quality and profession exporting wholesales experices. Welcome to visite and check our more acid etched glass design.