Silk Screen Printing Glass Detail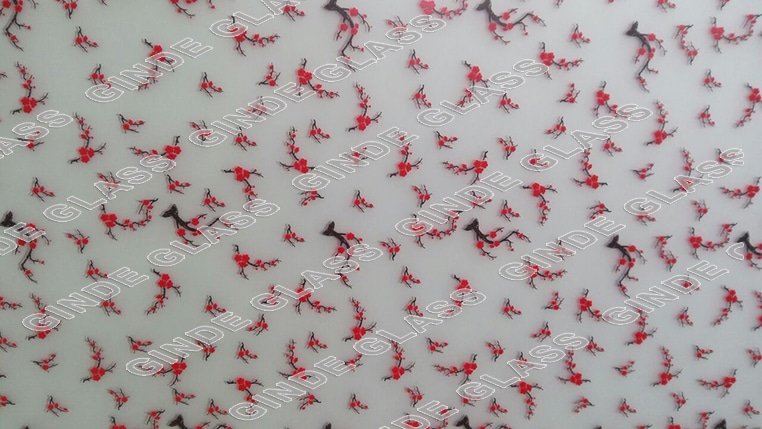 In modern architecture, glass is increasingly used as a decorative material. This is possible due to the fact that additional elements can be attached to it. There is no end to the possibilities of patterns and colors with regard to silk-screen printing glass, which enables a perfect application to the expectations of clients. The realization of an individual pattern, both in the form of pictures and graphics, allows the creation of an unrepeatable composition.
With the use of silk-screens, we can print different images on glass, with opaque ceramic inks, with the desired design and RAL color. After the heating process the inks are vitrified and the screen-printed images remain unaltered with time.
In use on façades, this process can be combined with  Low E glasses getting moreover the reduction of the solar factor depending on the percentage of the printed area.
Glass which undergoes silk-screen printing can perform not only a decorative function but also that of practical use.  Their advantage is durability under strong sunshine.
| | |
| --- | --- |
| Silk Screen Printing Glass Design No | Wintersweet |
| Glass Material | Clear float glass, tinted float glass, frosted glass, acid frosted glass |
| Thickness Available | 3.0mm 3.5mm, 3.8mm, 4.0mm, 4.5mm, 4.8mm, 5.0mm |
| Size Available | 1830*1220mm, 1830*2440mm, 1650*2200mm and 1700*2200mm |
| Design Color | Customer can decide the design and color |
| MOQ | 2 crate for one design |
| Loading Port | Xingang, Tianjin China |
| Payment Terms | TT, LC |
Silk Screen Printing Glass Advantages
Protection Of Privacy  In the practice of designing partition walls, constructors often face the necessity of ensuring there is good lighting in the building, while also protecting the privacy of its users. Glass partition walls thanks to their variety can fulfill these demands in varied ways through the application of the silk-screen printing.
Reduction Of Effect Of Blinding Caused By Direct Sunlight Partially transparent glass panes allow for a controlled flow of light between spaces, eliminating the need for artificial lighting while at the same time assuring a high level of privacy. The realization of an individual pattern, both in the form of pictures and graphics, allows the creation of an unrepeatable composition.
Color No Fade Out Under Strong Sunshine  This silkscreen printing glass ink color is vivid and the color will no fade out under strong sunshine.
Custom Design And Color Avaliable
Cheap In Price And Can Do Driling, Edge Work, But Tempered Is Not Avaliable.
Silk Screen Printing Glass Applications
Building constructions: windows glass, door glass
Interior design: partition wall glass, bathroom door glass
Household appliances: kitchen cabinet door glass
Packing And Loading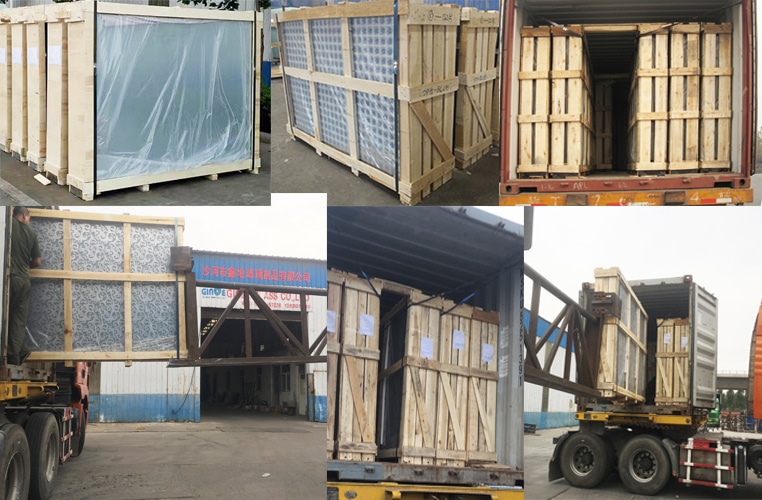 Contact
Mobile: +86 13931911140
Phone: +319 8991018
Fax: +319 8991018
Email: 13931911140@qq.com
Whatsapp: +86 13931911140
Skype: gindeglass
Wechat : +86 13931911140
QQ:1211343905
Ginde Glass Co.,LTD is professional for decorative glass and mirror manufacturer and exporter from shahe city , hebei province, china . Our product is widely used for window glass, door glass, bathroom door glass  and so on. For each and every customer, whether it be a trade customer or an end user, we strive to provide nothing less than 100% satisfaction on both service and quality. We make sure that our silk screen printing  glass are met at an affordable price.