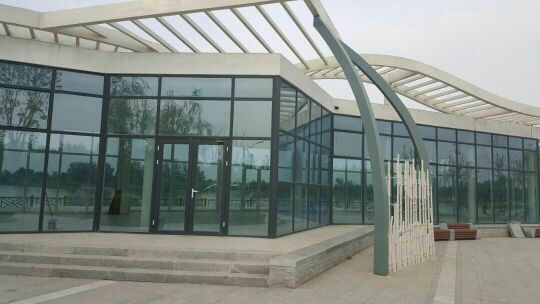 Low E is an abbreviation of "Low Emissivity", which is the ability to radiate absorbed energy. Low E glass has a unique Low Emissivity coating designed to reflect long wave radiation from the glass itself and from inside or outside the house. Ginde Glass has a range of Low E solutions for both single and double glazing applications.
For single galss applications we have the Sunergy range in 4mm and 6mm Clear, 6mm Sunergy Green and 6.38mm Sunergy Laminate. We also has the laminate Solect laminate grey tint in 6.38, 8.38, 10.38.
Low-E Glass is an advanced thermal insulation glass manufactured by coating clear or tinted float glass with metallic oxides through a process of magnetically cathodic sputtering under vacuum conditions. Its highly reflective to the heat radiation, hence is a very good thermal insulator. Low-E Glass coated tinted glass gives solar control as well as thermal insulation properties. It has a neutral appearance due to very low reflection.It also has excellent light transmittance resulting in maximizing the entry of daylight into the building.Thermally insulating glass (also known as low-emissivity or low-E glass) usually forms the inner pane of an Insulating Glass Unit (IGU). The glass has a transparent metallic coating that reflects heat from radiators or fires back into the room, rather than allowing it to escape through the windows. At the same time it allows free heat and light from the sun (known as passive solar heat gain) to pass through the glass, warming your home and further contributing to the energy efficiency of your windows.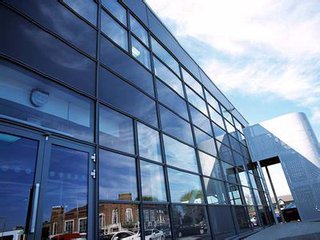 Government Building Regulations require us to use energy efficient glass products that help to reduce CO2 emmisions and protect the environment. These regulations have recently been updated to include a Window Energy Rating scheme which assess the overall energy efficiency of a window and offers a further means of compliance. Using high performance thermally insulating glass such as Low-E Glass, glazed in a suitable framing system, is the most effective way of improving window energy ratings.
Application & Uses
Using thermally insulating double glazing is the best way to improve the energy efficiency and make your home environment more comfortable.
Improved thermal insulation
Promotes passive solar heat gain
Improved energy efficiency – reduced need for heating helps to save energy and protect the environment.
Thermally insulating glass can be combined with many other products for multi-functional glazing, such as low-maintenance, solar control, noise reduction, decorative glass and enhanced safety and security.
Product Range
Thickness: 3mm,4mm,4.2mm, 4.5mm, 5mm, 6mm, 8mm,10mm,12mm,15mm,19mm
Regular Sizes:2440*1830, 3300*2140, 3660*2140
we can do according to customer requirements if they
can meet our MOQ (Minimum Order Quantity)